MB&F HM3 Rebel, new paradigme.
Today it uses the word paradigm in all circumstance. Me first!
Sometimes intensive use, but frequently justified as technology revolutionizes today more that cultures or social organizations.
This word paradigm, applies perfectly how the net has literally revolutionized the Maghreb countries, all the decades are socially agitated by riots in these countries, riots, crushed in blood , the mainstreams medias are throwing a discreet veil.
The net thus creating a new paradigm.
In the same manner, today Max Busser revolutionizes the watchmaking communication, and imposes a three dimensional paradigm of time reading with the unbelievable HM3.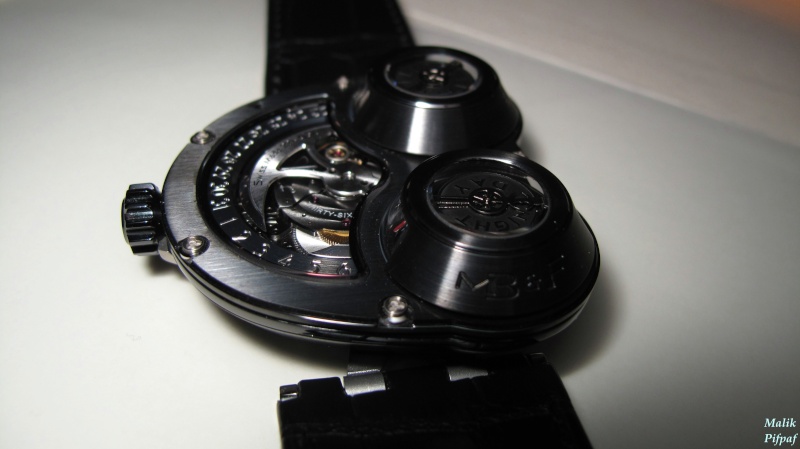 So when you go cover an MB & F, you really need change of paradigm, both in terms of a watchmaking, as the photographic point of view. For example, that, it's not good:
And now, Max produced in collaboration with Laurent Piccioto (Chronopassion for those who sleep), a new LE dedicated to the Parisian store. (But distrubued in all AD of MB&F)
And where this watch is ultimate in terms of paradigm shift is that it not also impose three-dimensional reading of the time, it impose it on the left wrist!
The instrument concept is also essential to understand this watch, as I imagine for the future happy owner it must require an adjustement period to read the time naturally.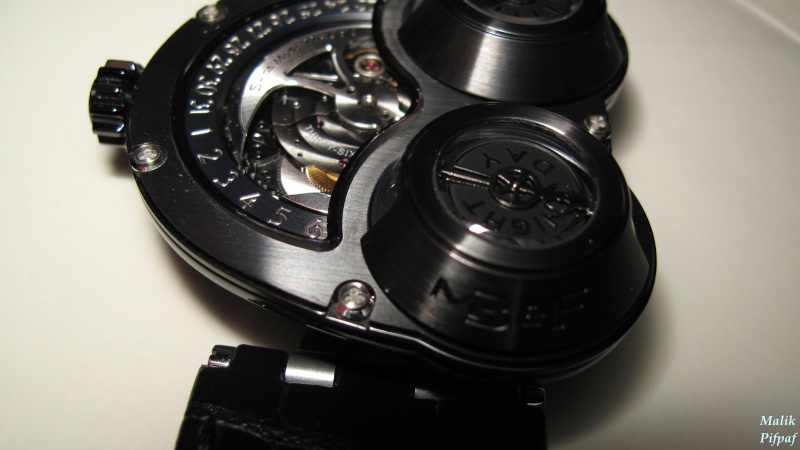 She's call Rebel, vagaries of the geopolitical calendar, at the moment Maghreb people revolt against theirs dictators.
Rebel, because the another big passion of Laurent Piccioto, is the Rock' no Roll, for those who are friends with him on facebook, are also often seen photos of repeats on his account, than photos of watches.
Il était seul à prendre des risque distribuant des ovnis méchamment Rock'N'Roll avec les maisons de retraite
en face vendant du Michel Sardou et du Franck Mickael.
He was alone to take risk distributing UFO wickedly Rock'N'Roll with retirement homes
face selling and Franck Michel Sardou Mickael.
Rebel, because and it's of course only my personal analysis, for a long time, Laurent was the only enfant terrible of watch distribution, sometimes, rebelling against the dictates of some brands, imposed pieces, delirious deliveries delay.
Rebel because he was for a long time, the only independent distributor to take risks on independent brands, Panerai in 1993, De Béthune, MB&F and many other.
It was only to take risk distributing badly Rock'Roll UFOs, with face of him, some retirement homes who selling grandpa musics.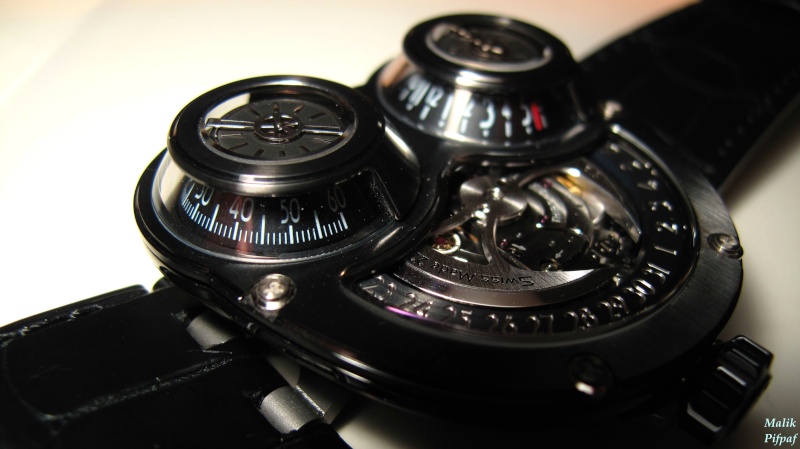 Beyond the total quirk of the instrument, she resumed all aesthetic codes of Laurent Piccioto, left-handed, black, almost sober compare to the delirious Frog!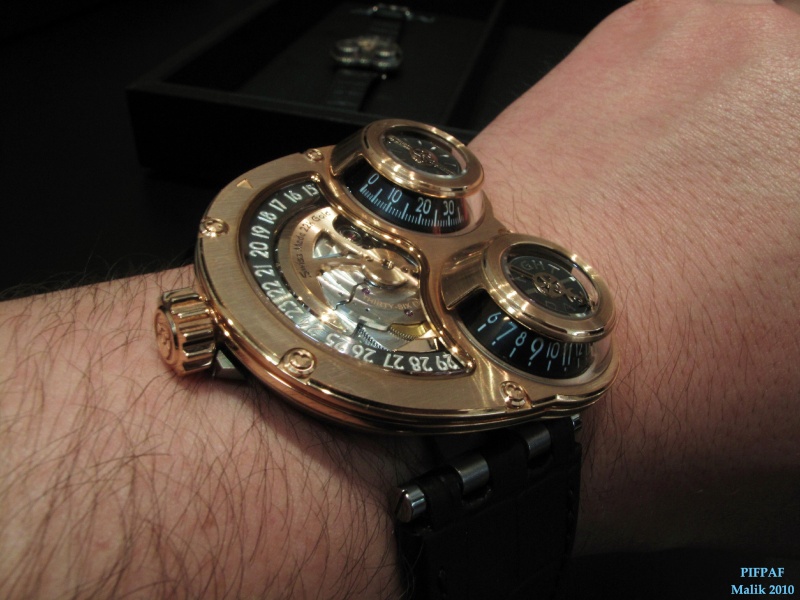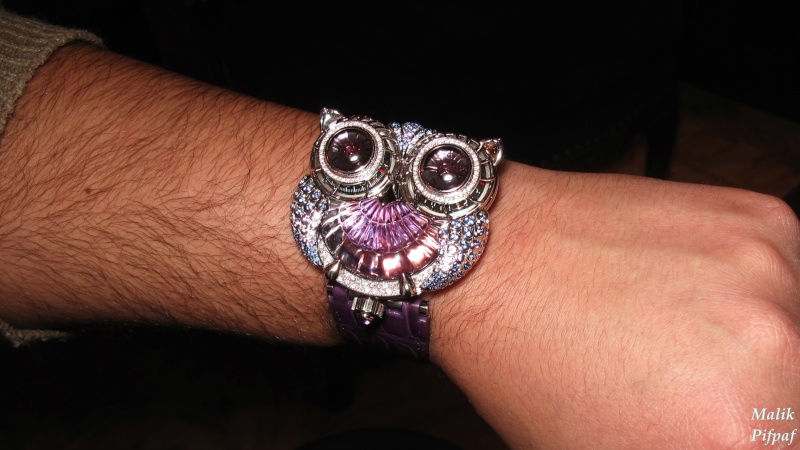 Of circumstances:
It isn't without remind me on some points the very successful Richard Milles RM10 Chronopassion. Sobriety, efficiency.
In fact, I regret that it's not a catalog piece, as it appears suddenly the need to fill a hole in the HM3 range of Max Busser.
18 copies will be produced, the happy possessors are undoubtedly in possession of the only left-handed HM3, I predict it (not too risky after the crazy shot of PAM358), some success on thesecond hand market ...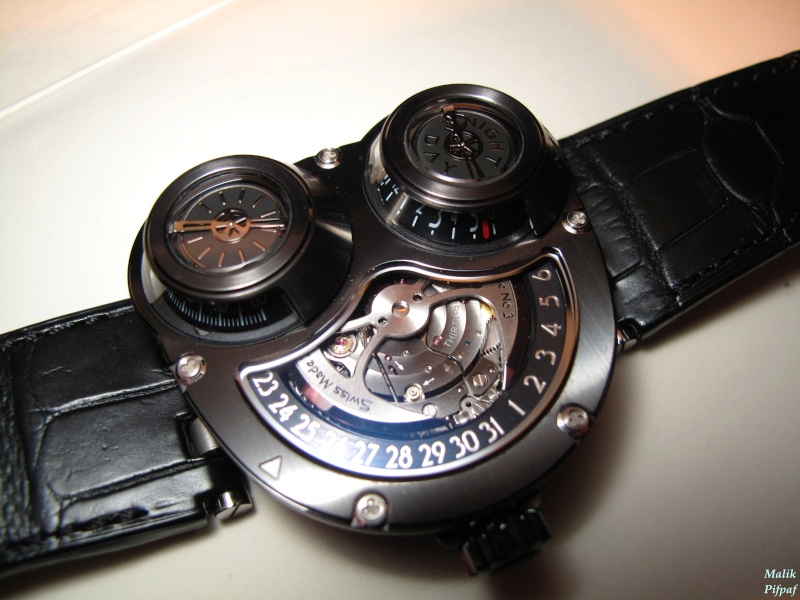 As usual, the press kits don't fit the reality, white gold PVDised have very beautiful reflections, the treatment makes me a little think about the current DLC of Panerai, something fairly light, where you feel the metal vibrates under the PVD coating.
What had me scared in the press kit, it is the oscillating mass, I found desapointely metallic, foolishly tone on tone, whereas the concept of Astero-axe rotor on the dial is so strong that it deserve to be underline.
But IRL, even if I would have preferred a more Rock' no Roll color, the white of the mass is very bright, and detaches from the bridge tint, darker, so the initial concept is preserved. Phew.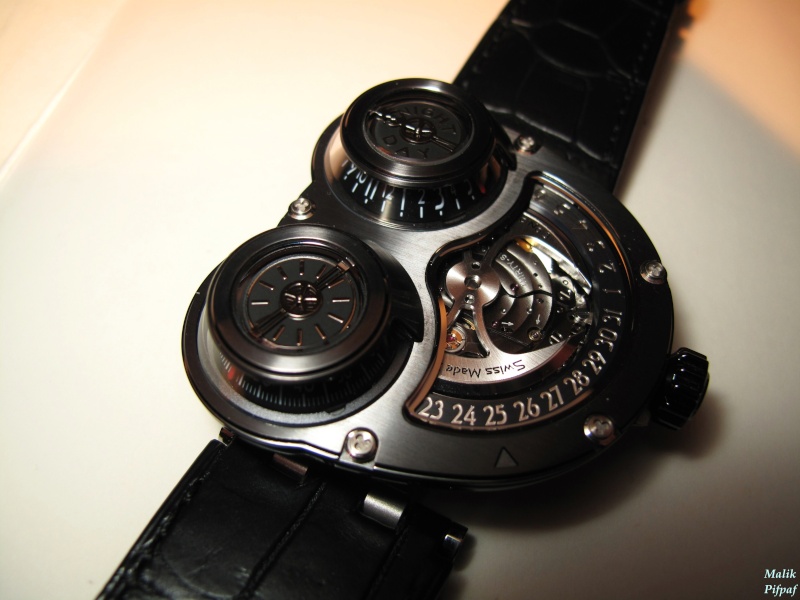 At wrist: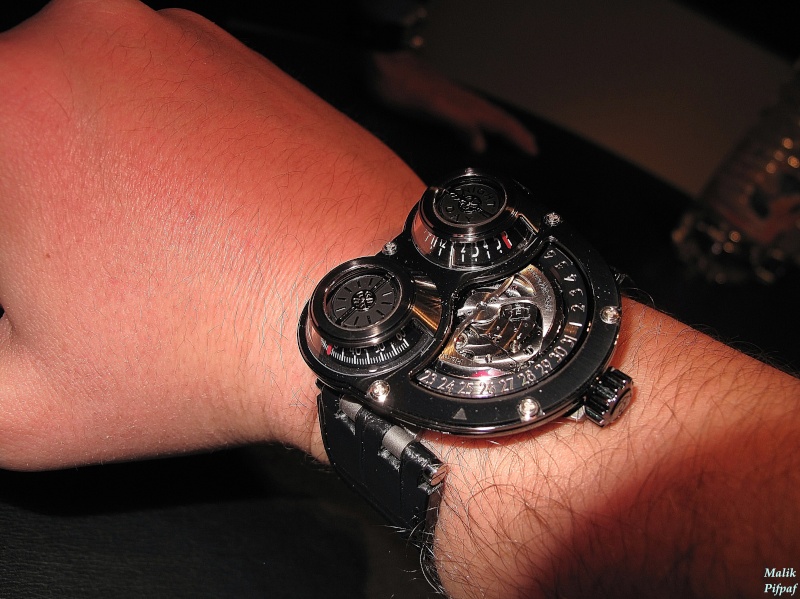 As I said above, this is totally different, a real paradigm shift.
With this first piece of a series of LE dedicated to MB&F distributors, Max proves that he didn't exhausted the concept of "Friends", everything remains to be discovered, everything remains to be built, whith his talent for project management.
Recent blog posts
5 years 26 weeks ago

5 years 35 weeks ago

5 years 37 weeks ago

5 years 41 weeks ago

5 years 43 weeks ago
Tags for MB&F HM3 Rebel, new paradigme.