[Only Watch 2011] Bovet Tourbillon Dragon & Phenix
This year for Only Watch, Bovet presents a unique piece, based on the movement of the Amadeo «Fleurier Tourbillon 44mm».
The concept of the Amadeo features a case that can be disconnected from its lugs, so that it can be used either as a pocketwatch or as a travel watch.
Thanks to modern technologies, the Amadeo pays an actual and important tribute to pocketwatches.
It is the archetype of a timeless concept, in the way it enables us to go back to the pocketwatch paradigm at any moment.
Support Only Watch on Facebook, become a fan:
http://www.facebook.com/pages/Only-Watch-2011/193861450643497
Bovet Only Watch on the WatchOgrapher:
http://www.watchonista.com/2914/watchonista-blog/watchographer/only-watc...
On the W-forum:
http://www.watchonista.com/2914/watchonista-blog/only-watch-2011-bovet-t...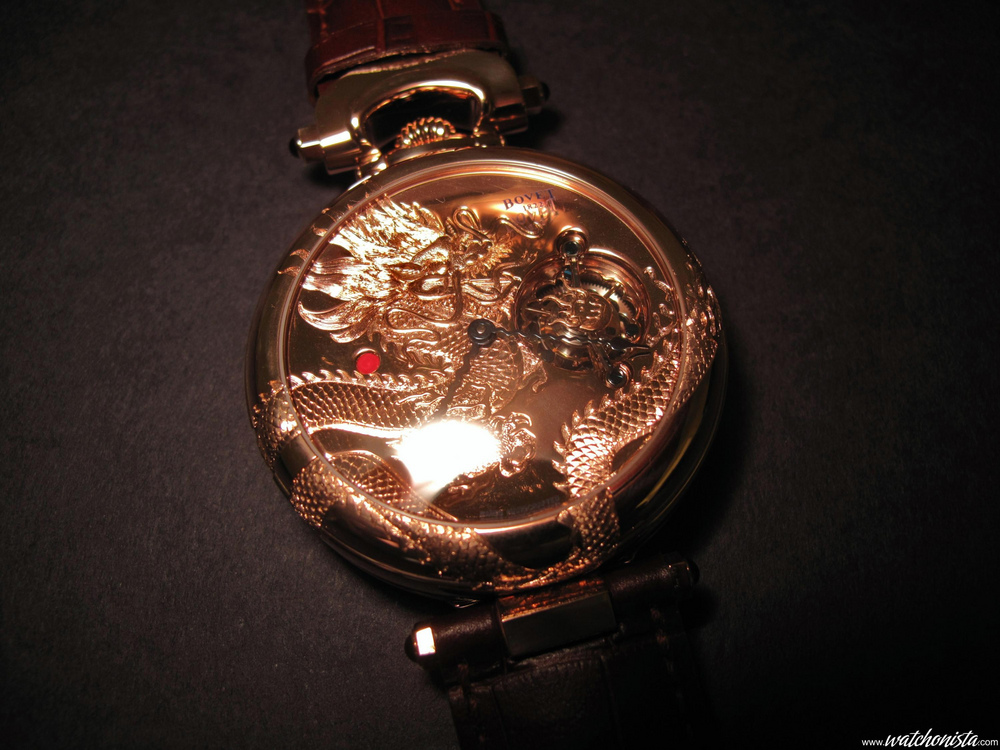 The Amadeo «Dragon & Phoenix» uses the movement of 13 lines ¾, set at 21600 v/h by a 1 minute Tourbillon. This manual caliber features a Power Reserve indicator at 9 o'clock, with a 7 day reserve.
The minimalist indicator makes room for a superb engraved Chinese Dragon.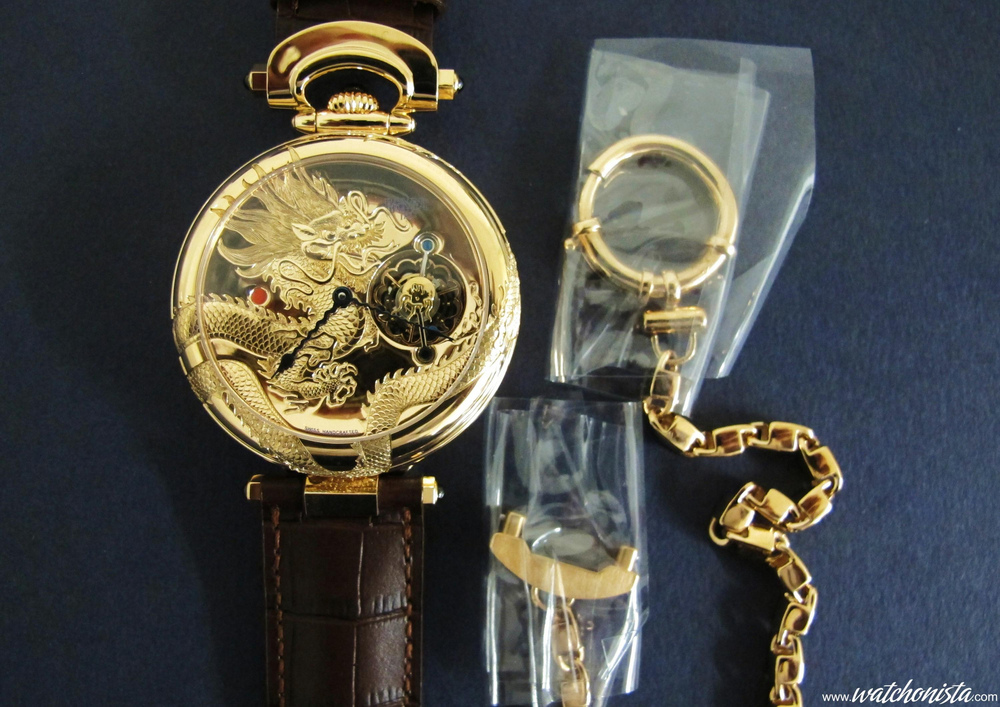 In a rare and surprising manner, the engraving extends beyond the dial andspreads out across the middles. The reflections of the red gold are magnificent, and are challenging to photograph.
Although this kind of decoration layout is extremely rare, the same idea is present on the Van Cleef & Arpels «De la Terre à la Lune» Only Watch. It is the beauty of this auction, an outburst of creativity.
Here, the movement is not visible (unfortunate, seeing as the« rococo » styling of the Bovet movements is truly unique ). Preference is given to the practical side and the versatility of the watch, which is totally reversible thanks to an extra pair of hands.
The back is engraved with a Phoenix, which in terms of engraving has its show stolen by the magnificent Dragon wrapped around the case.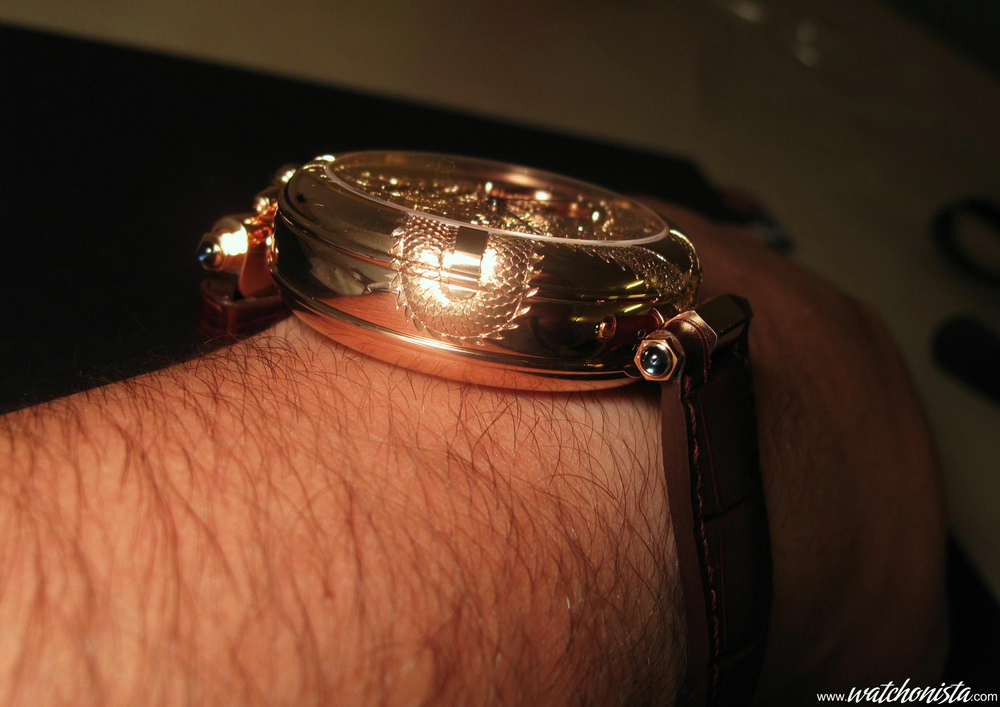 These symbols mean a lot to the Chinese, because they follow the precepts of one of the arts related to Taoism, Feng Shui: it is a principle of harmony and balance of energies, where the Dragon symbolizes the strength and the Phoenix is the symbol of durability; The harmony of the Chinese market trends is respected.
Nowadays, more than 50% of the exports of Helvetic horology are to China. This piece is intended for the Chinese market, a legitimate choice for Bovet, which has been present in this market since the beginning…
The icing on the cake is the Amadeo's case; The Chinese market, which is fond of pocketwatches and of classic timepieces, is therefore doubly targeted.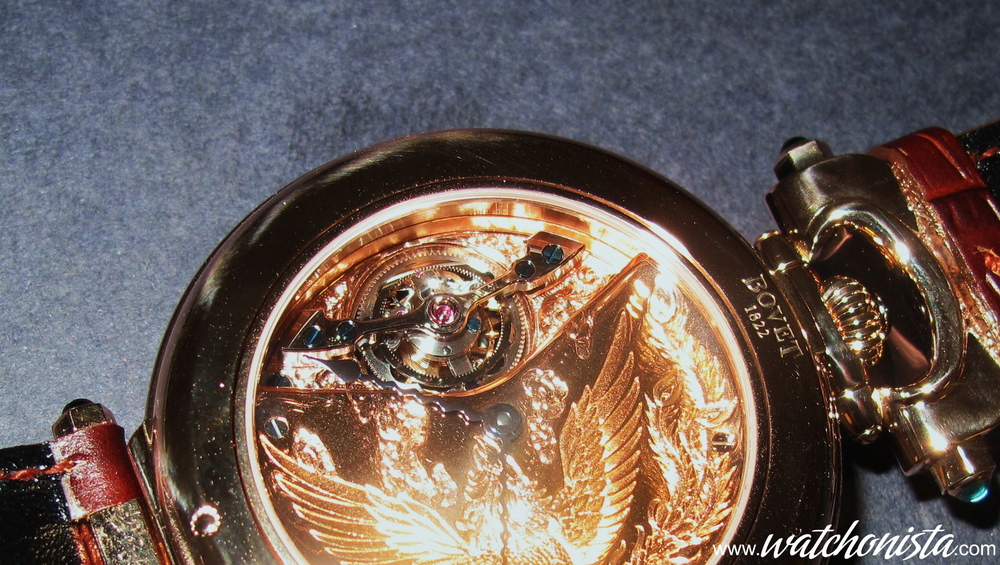 Bovet followed the concept of Only Watch quite faithfully, by proposing a case completely modified and absolutely unique. By going to the end of its «Sinophily», Bovet highlights the importance of Chinese collectors in the contemporary watchmaking world.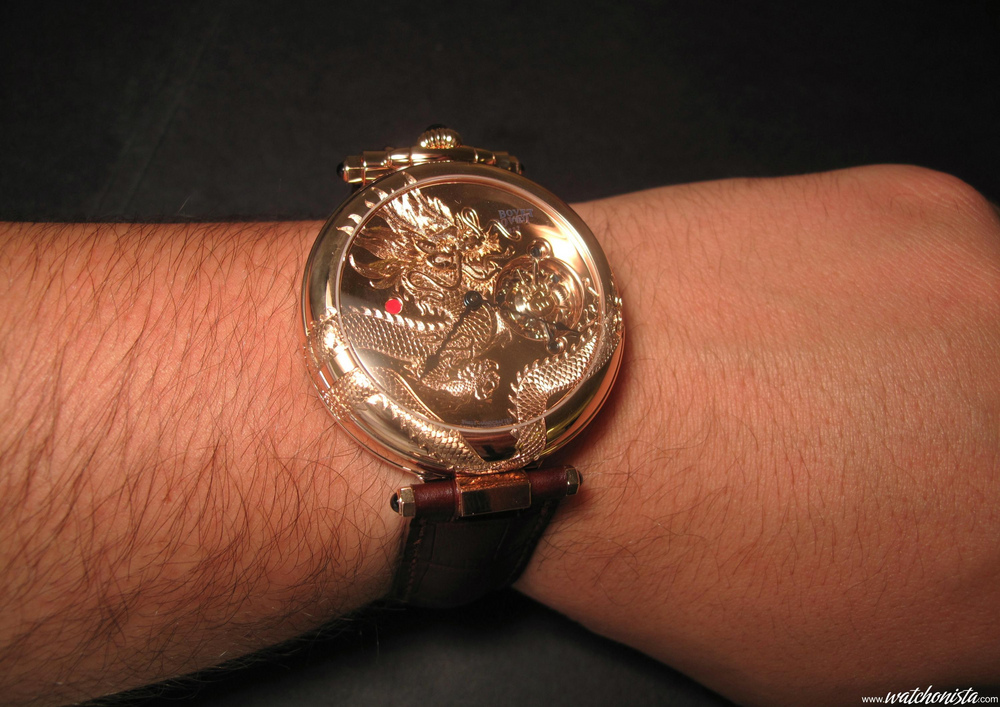 Recent blog posts
5 years 26 weeks ago

5 years 35 weeks ago

5 years 37 weeks ago

5 years 41 weeks ago

5 years 43 weeks ago
Tags for [Only Watch 2011] Bovet Tourbillon Dragon & Phenix