[Only Watch] Chopard L.U.C Engine One Tourbillon
Tributes paid to the automotive industry are predominant in Chopard's horologic themes. If vintage cars are honored in many collections, notably the «Mille Miglia», modern sports cars also have a dedicated watch, the Chopard «L.U.C Engine One Tourbillon».
Support Only Watch on Facebook: become a fan.
Access to more exclusive pictures of LUC Engine One.
On Antiquorum:
http://catalog.antiquorum.com/catalog.html?action=load&lotid=10&auctionid=254
The shape of the DLC Titanium case is quite surprising (one can find the same kind of design on the Lange «Arkade», or on productions by Daniel Roth, Roberge…).
There are two reasons for this shape:
-The L.U.C 1TRM movement imitates the lines of a modern engine block, in the style of the great GT's V8 or V10.
-This caliber is fitted on silent-blocks, just like a car engine, in miniature.
This watch's centerpiece is of course the Tourbillon, which is fitted at the center of a plate with a deliberate industrial finishing (but very fine nonetheless), makes us think of a big block cylinder's head design, like those fitted in sport sedans, but scaled to 1/1000.
This Tourbillon, rather standard in its architecture, reminds us by its look and the way it moves, of the Wankel rotary engine's cycle!
When will a technical revolution enable a regulating organ to work with a conventional reciprocating piston engine cycle?
Here, the Tourbillon is set at 28800 v/h. There is a 60-hour power reserve, whose indicator sits at 12 o'clock.
It overhangs an opening in the dial, through which we see the big manual winding barrel.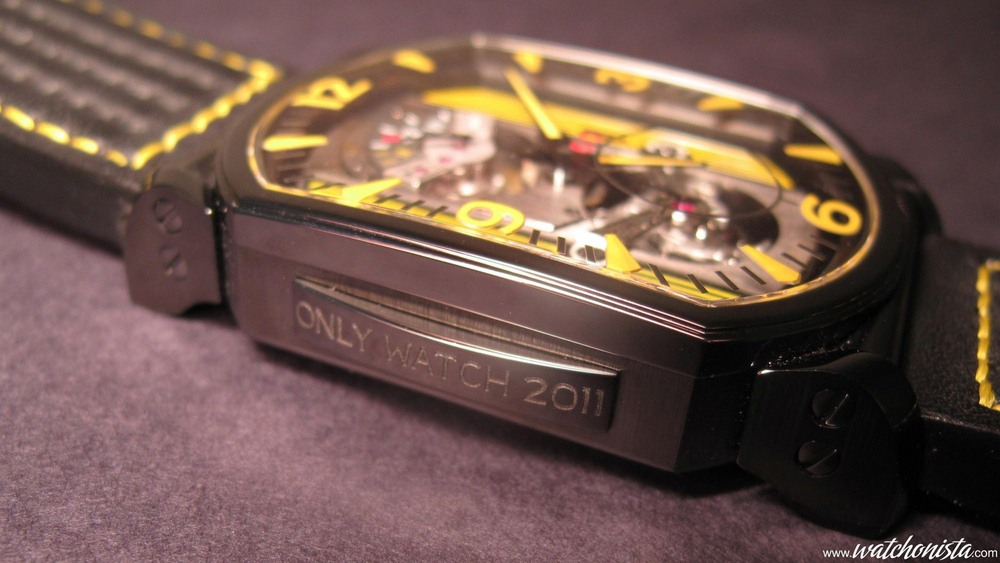 The biggest surprise of this Chopard Only Watch is the yellow used for the decorations:
The Principality's colors being Red and White, one could have imagined that the engine's adornment would have used this source of inspiration, or at least would have featured the Red, a color very common on brake calipers or cylinder heads.
But if one considers the universe of Formula One, the yellow could be perceived as a tribute to the Monaco Grand Prix: this color could be a reminder of Ayrton Senna's helmet (record holder of the most victories on this circuit), of Renault-Sport and its insanely powerful Turbocharged V6 F1 engine, of Matra's V12 with its mythical sound (black and yellow cylinder heads)… It would be a legitimate choice, albeit a little «in the know» for Only Watch.
Chopard offers one of its finest movements for Only Watch, a serious tribute to contemporary motorsports which makes even more sense in the context of Monaco, as the Principality is filled with automotive culture, notably with the F1 Grand Prix…
Recent blog posts
5 years 26 weeks ago

5 years 35 weeks ago

5 years 37 weeks ago

5 years 41 weeks ago

5 years 43 weeks ago
Tags for [Only Watch] Chopard L.U.C Engine One Tourbillon