[Only Watch] Harry Winston GMT Tourbillon
On the occasion of Only Watch, Harry Winston remains conservative.
When one could have expected a customized Opus XI, Harry Winston presents a neo-classical watch, which stands at the junction of multiple lines.
It is a «Midnight» that revisits the movement of the Z5.

Support Only Watch on Facebook, become a fan:
http://www.facebook.com/pages/Only-Watch-2011/193861450643497
Click to access exclusive pictures of the Harry Winston GMT Tourbillon.
On Antiquorum:
http://catalog.antiquorum.com/catalog.html?action=load&lotid=20&auctionid=254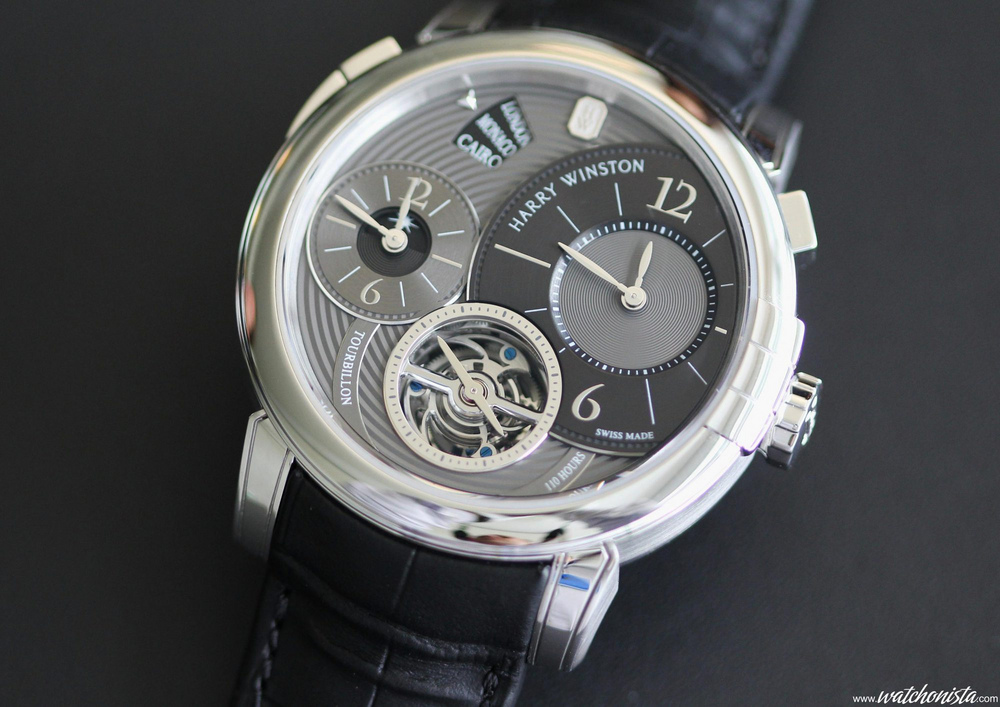 As indicated by its name, this piece goes back to the basics with the «GMT» complication.
A classic for the rushed businessman, this system makes it possible to know the time in two different geographical zones simultaneously. If the complication is classic, the execution is super high end.

The Watch is 45mm across, with platinum instead of Zalium (an alloy of Zirconium-Aluminum specified for the «Z» series). Consequently, the watch is heavy, impossible to forget that it is made of precious metal!
Its automatic winding enables a 110-hour power reserve.

The generous size of the case combined with its big aperture, made it possible to include 2 secondary Ruthenium dials designated for as many time zones, while maintaining perfect legibility.
Contrary to the Z5's, this dial is devoid of ambiguities. The classical time display benefits from a large anthracite dial.
The small mouse grey dial located at 9 o'clock is intended for the «GMT» time zone, while a simple push advances the time zones that are visible in the aperture at 11 o'clock. A «Night & Day» disk is discretely integrated inside the secondary GMT dial.
As a quite sober tribute paid to Only Watch, the «GMT +1» time zone is intended for Monaco.

Finally, the Tourbillon and its three-armed cage perfects the luxurious look of the piece.
The «Tourbillon 1 minute» set at 28800 v/h, also displays the seconds above its bridge.

The «Midnight Tourbillon GMT» is a watch that will delight Harry Winston collectors; It sits at the esthetical and technical convergence points between the «Midnight» and «Z» series. It is quite logically a «Collectible Harry Winston» intended for Only Watch.
Recent blog posts
5 years 26 weeks ago

5 years 35 weeks ago

5 years 37 weeks ago

5 years 41 weeks ago

5 years 43 weeks ago
Tags for [Only Watch] Harry Winston GMT Tourbillon