Panerai SIHH 2011, the Apogee. Part 2/2
The 345, last LE. Knowing that Panerai is a niche brand, we are here on a microniche, say Chihuahua's niche, so much the rares features overlap in this model.
Left-handed, chrono titanium PR not linear, but on the back, a novelty for a P.200X(2004.9, in this case), his biggest problem, a flat sapphire, almost cheap for this relatively expensive watch ...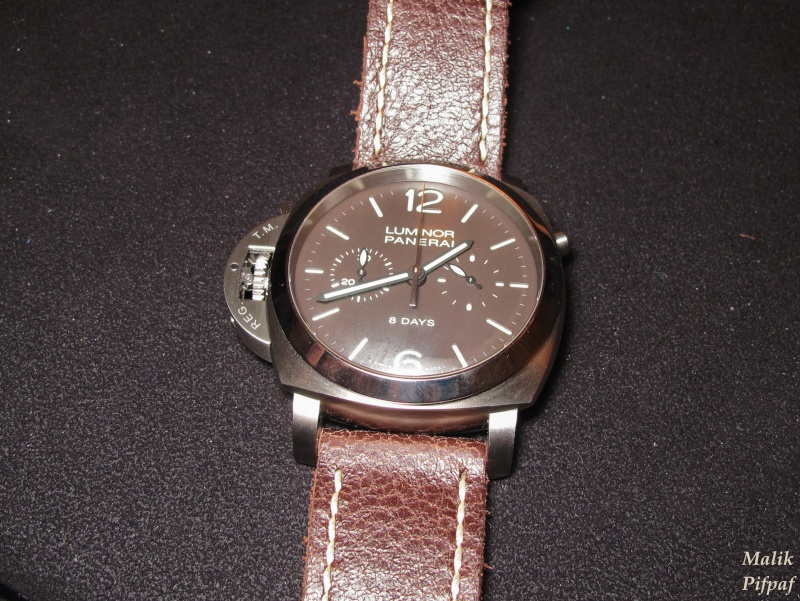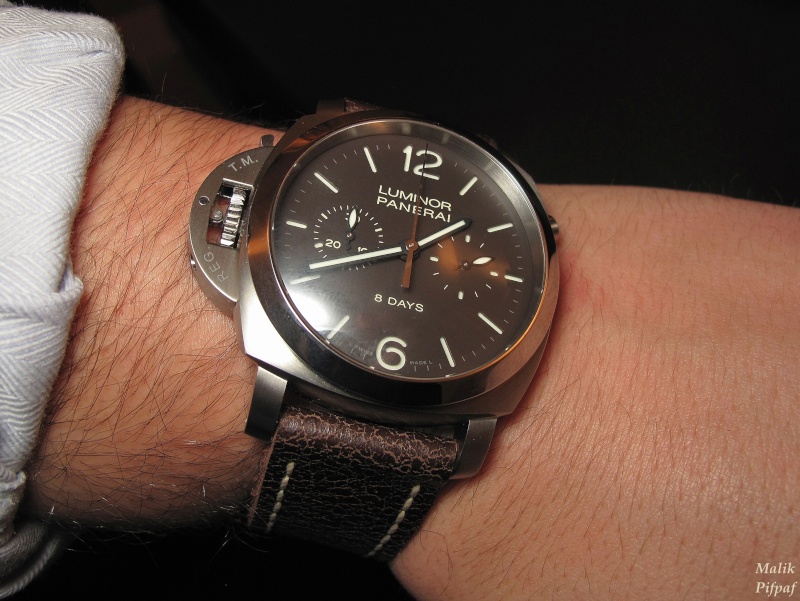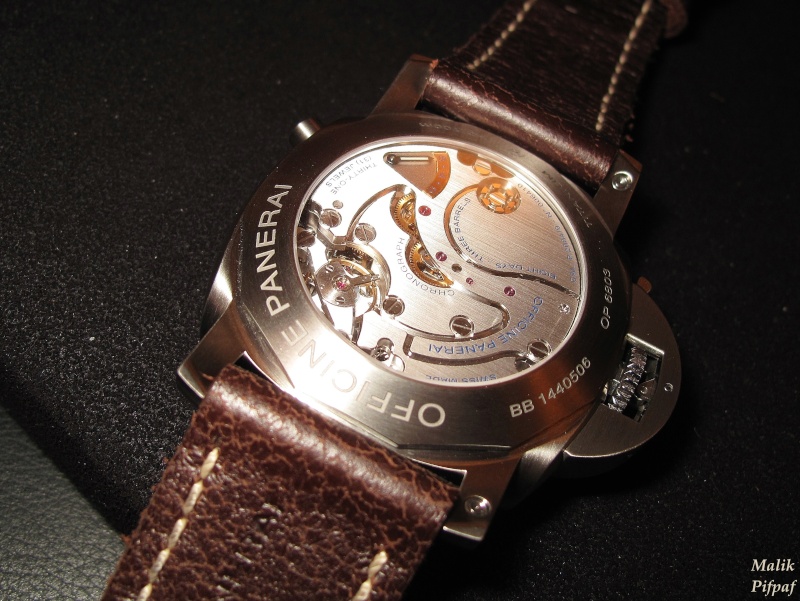 Love it on WatchOnista:
http://www.watchonista.com/index.php?page=watch-info&wid=11312
The 380, as the caliber (of firearm not of JlC), a range entry terribly effective, that will be the equivalent of Logo 000 for the radiomirs, to less than 3000€, Unitas, 45mm, the logo on the dial paintedi n light depression, small regret, the BlackSeal line seems to much for me.
The caseback is full steel, it is very fitting with theoriginal tool-watch spirit. Efficiency.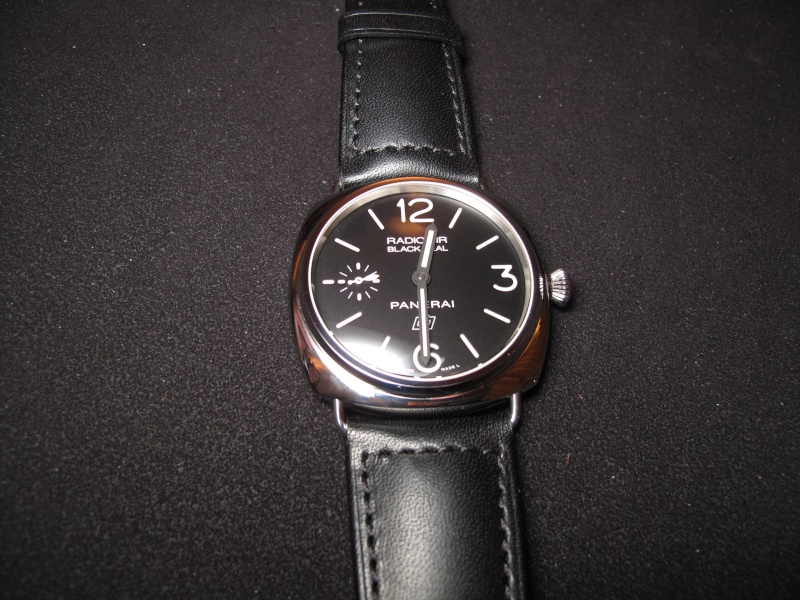 Wish it on WatchO:
http://www.watchonista.com/index.php?page=watch-info&wid=11387
The 384, Radiomir 45mm ceramic P.2002, unsurprisingly, I don't like it, ceramic case doesn't fit to the rads, super thick caliber making it excessively obese, it's doubtless the watch that I like less of this SIHH.
But Richard, adored it, all taste are in nature...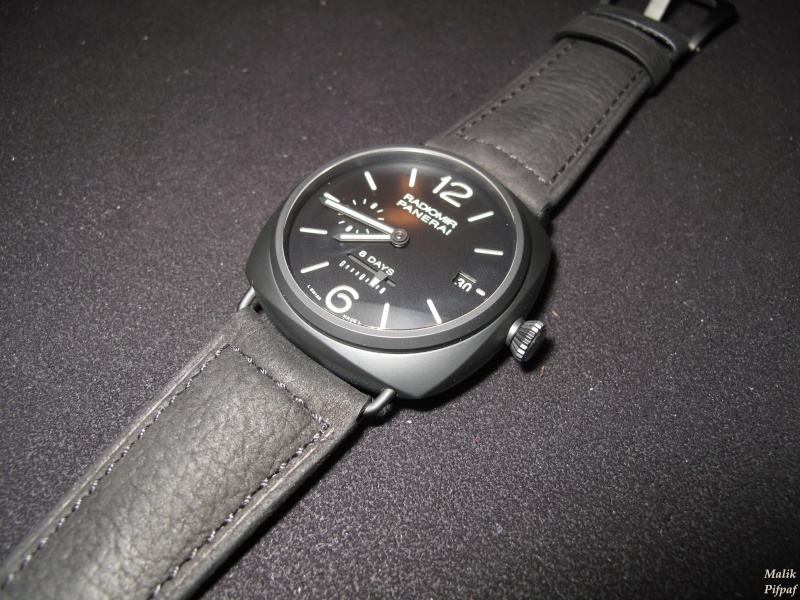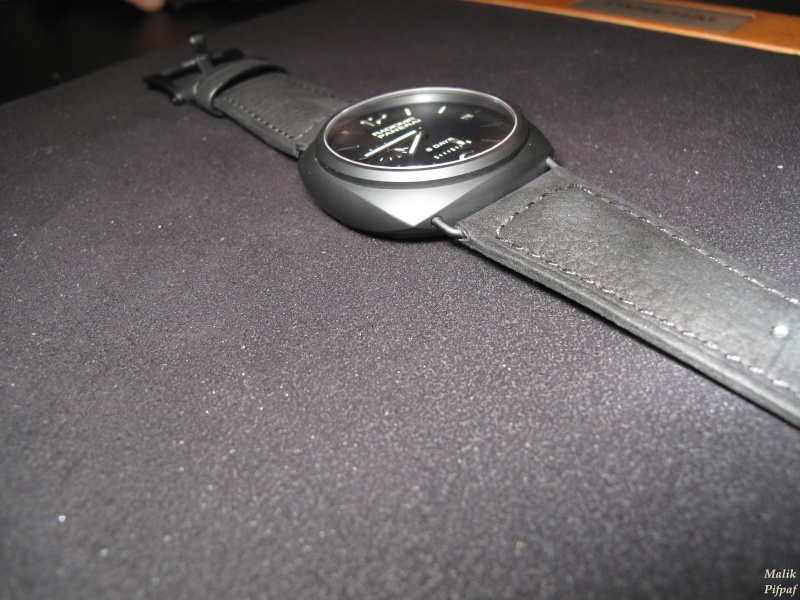 Hate it, or no, on W. :
http://www.watchonista.com/index.php?page=watch-info&wid=11388

386, the watch of the buzz pré--Sihh, I have difficultys to finding it qualities " buzzables ", seen the parade of fighter worthy of the airshow of the bourget/eurosatory.
It is very honest Panerai, a composite 312 P. 9000, it willn't prevent me from sleeping, but will doubtless make the enjoyment of the Asiatic market, which is not still provided with my advantageous physical appearance.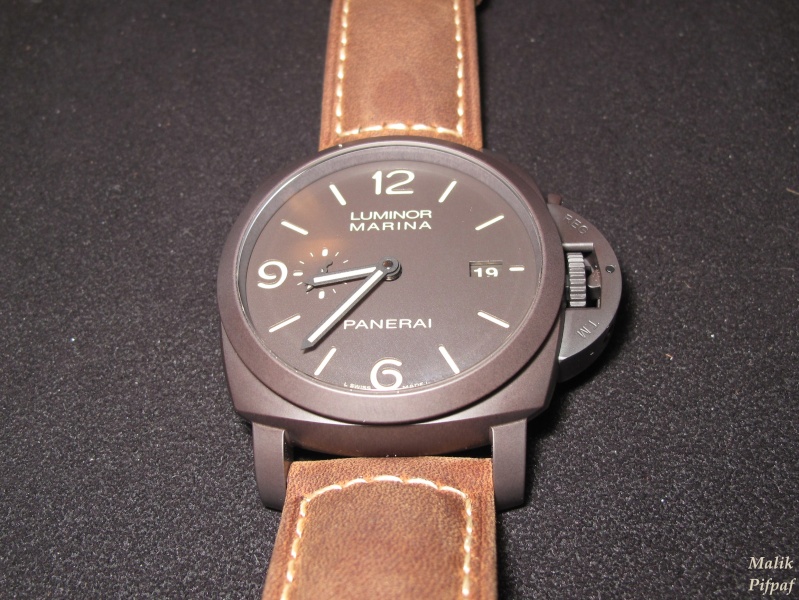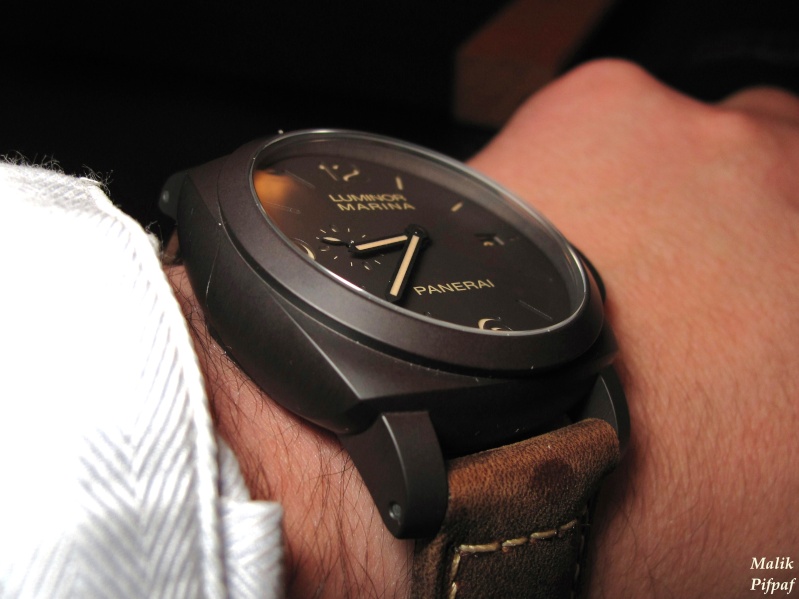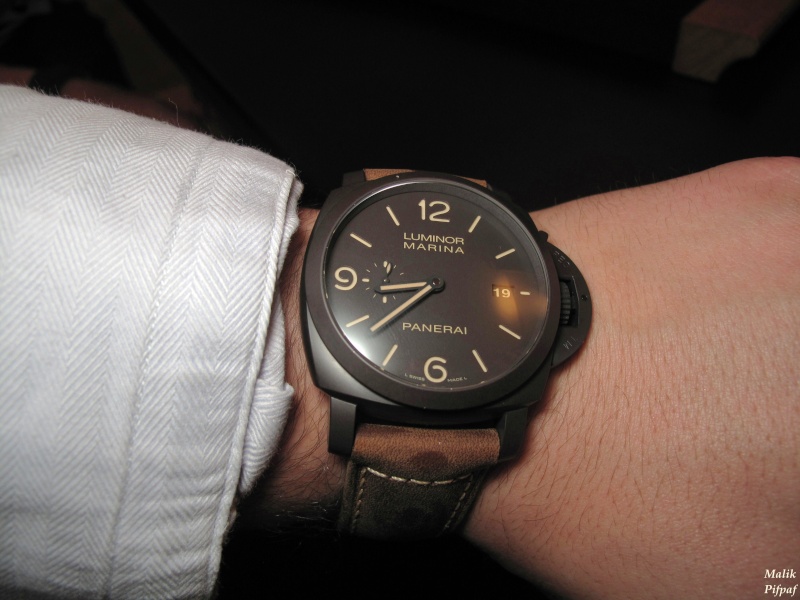 Desire it on Watchonista:
http://www.watchonista.com/index.php?page=watch-info&wid=11389
The 369, Radiomir 42mm Chronograph (for Asian market), a watch as could have made of it Panerai there 5years, it's thick, not amazing level of finish, and overall without interrests, curiosity,an embarked OPXXIII, one 2892 with complication plate I believe…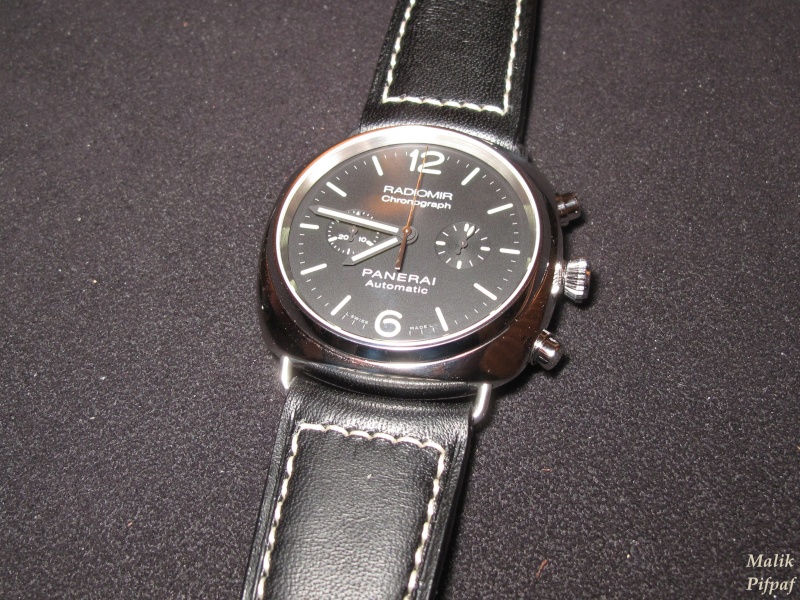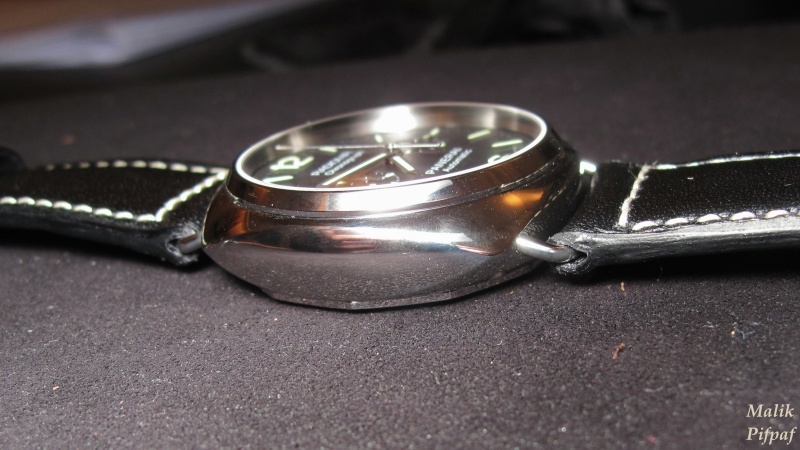 Tell your opinion on WatchO:
http://www.watchonista.com/index.php?page=watch-info&wid=11391
The 356, Luminor Bettarini case 44mm, Daylight,very beautiful homage to the Daylight range, a quite poor film will have succeeds in giving some rellay interesting watches (like poor Judgment Night give is huge OST).
We could see either the swansong of the Bettarini case there, or a subliminal message addressed to the amateurs of Bettarini case, standard, « we don't forget you ». It is in any way the not 47mm which I the most appreciated of this 2011 SIHH.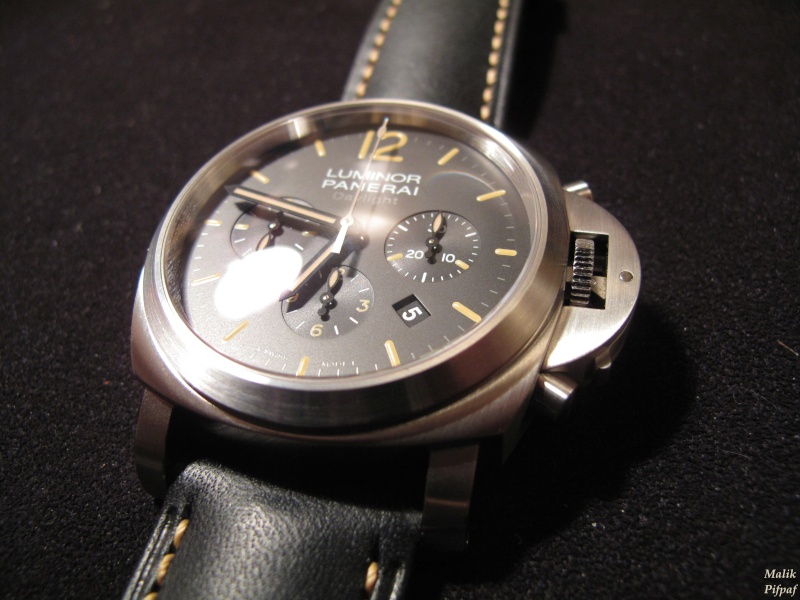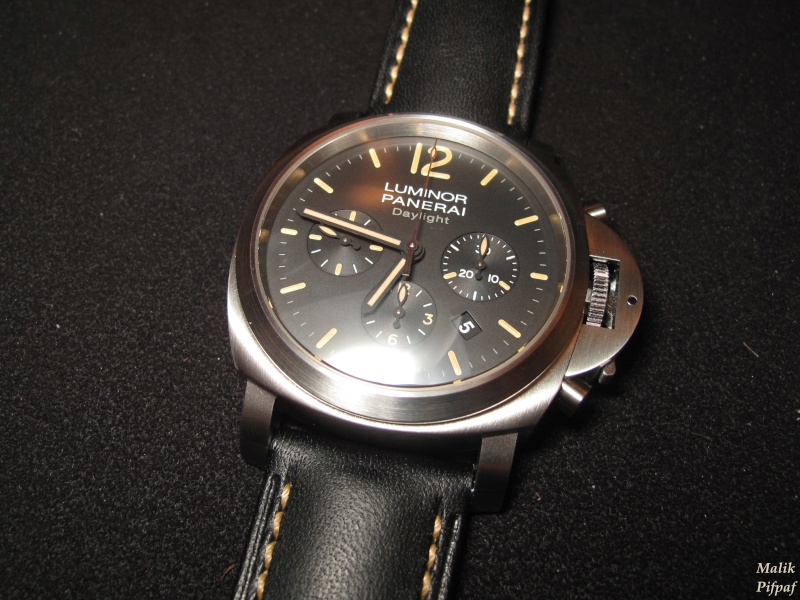 Command it to Santa Claus on X-masista:
http://www.watchonista.com/index.php?page=watch-info&wid=11392

Epilog: Panerai score with one of the fourth most interesting brand of the wonder week, a longside De Bethune Van Cleef& Arpels and Heritage Watch Manufactory, while almost all the other brands make a half-interest SIHH, Panerai realizes his best performance by opening the floodgates for all unfulfilled desires of Paneristis.
Better, they outdistance seriously, by increasingthe level of general finish and esthetic choices, all those which claimed to make Panerai-like (B&R at the head).
It is also a snub with all the embittered who spent their days to wallow in cheap and little attack with towards Bonati, even if it is of course the work of a team personified in the mustached man.
Finally, the biggest critic is that I don't see Panerai realize again a such beautiful SIHH in the future,
unless they exit the Little Egyziano, the big one in 47mm, the 339 with straight lugs (as the discussed Ferretti), and the 47mm submariner-like, same year, this exploit would be impossible to replicate...
At last, we should not cry, we are the lucky generation of Paneristi which lives directly the apogee of Panerai.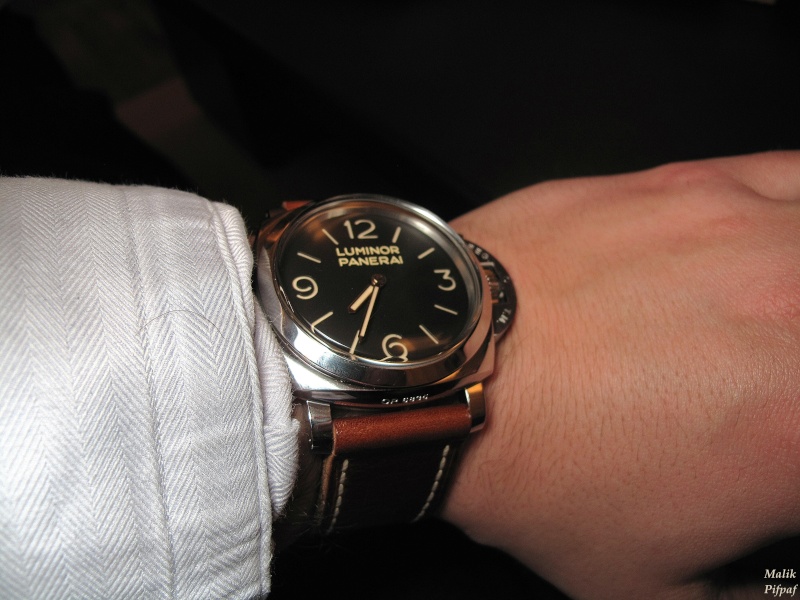 Recent blog posts
5 years 26 weeks ago

5 years 35 weeks ago

5 years 37 weeks ago

5 years 41 weeks ago

5 years 43 weeks ago
Tags for Panerai SIHH 2011, the Apogee. Part 2/2